Professional Development Contibution and Support Application
The Imperial County Children and Families First Commission welcomes agencies and/or individuals working with children 0-5 years of age that are interested in increasing their capacity to provide services to consider submitting a Professional Development Contribution and Support application.
The Comm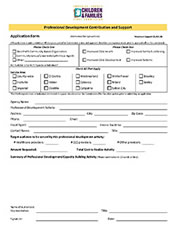 ission has allocated funding to support professional development and capacity building opportunities for agencies and individuals serving children 0‐5 years of age in Imperial County. This determination was made as a result of the shared responsibility that the Commission feels it has to support the advancement of organizations and/or professionals that work directly with young children in Imperial County and are meaningfully working toward maximizing capacity building opportunities. It is recognized that in all professions it is important to gain skills and adopt evidence‐based methods to increase efficacy and address social changes. The Commission has made the case to value this type of investment, and support professionals in child health, human services, and early care and education.
This application can be downloaded at the following link: