Featured Program Vignette: Raise A Reader Project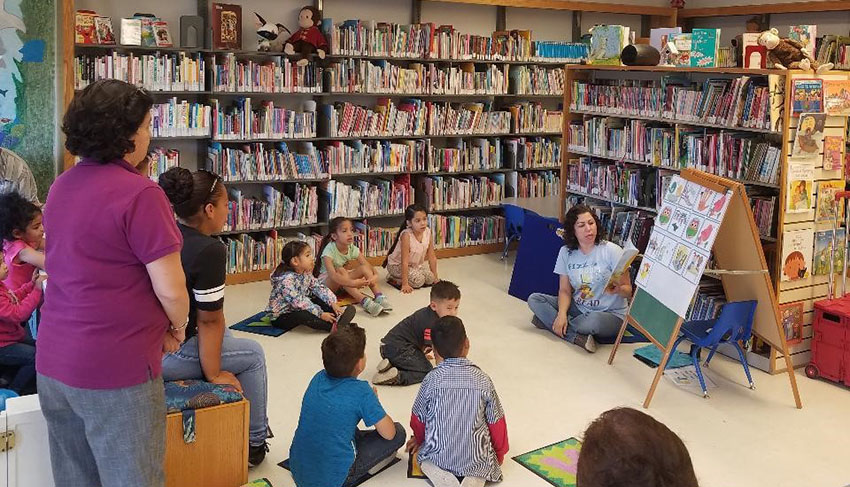 Pictured above are families engaged in family literacy sessions facilitated by the Imperial County Free Library Raise A Reader Project.  The Project's Family Literacy Specialist, Rocio Medina facilitates a storytime activity with a group of curious children and parents at the City of Holtville County Library Branch on May 2, 2018.

The Imperial County Free Library operates four library branches throughout the county in the cities of Calipatria and Holtville and the unincorporated areas of Heber and Salton City.  The library's administrative headquarters is located in El Centro.  The Imperial County Free Library partners with a number of organizations to provide services to library users of all ages, particularly working to target families with children ages 0-5 through funding from First 5 Imperial.  Some of the partnerships include other local libraries and child care centers, as well as local school districts or agencies that promote early literacy and reading.  For fiscal year 2017-2018, the Imperial County Free Library was awarded funding from First 5 Imperial to implement the Raise A Reader Project that would target families with young children in the catchment areas of one of the four branches of the library system. 

The Imperial County Free Library Raise A Reader Project offers literacy activities under three components tailored for families with infants (Shake, Rattle, and Read), toddlers (Tales for Tots), and preschool-aged children (Preschool Power).  The "Shake, Rattle, and Read" component includes developmentally-appropriate activities that incorporate the 5 'Every Child Ready To Read' practices for the 0-18 month age group through rhymes, songs, and books.  Under the "Tales for Tots" component, the Project will offer numerous activities with the purpose to support the increased development of the school readiness of children ages 18-36 months by providing opportunities for parents and caregivers to learn about appropriate practices that promote a child's early literacy development.  The "Tales for Tots" component is lengthier and offers a larger emphasis on movement, interactive stories and play.  In addition the "Preschool Power" component will follow the model of the infant and toddler components but with greater emphasis on the developmental milestones of preschool-aged children (3 to 5 years old). Activities under this component include the ability to hold crayons more steadily, draw simple shapes and letters, and use scissors.  The stories and books shared with this age group are increasingly interactive and work to encourage the child to ask questions, predict outcomes, and express emotions.  The three components of the Raise A Reader Project will be offered seasonally for a period of 8 weeks with a 2 week intermission period before the next 8 week cycle begins.  During the 2017-2018 fiscal year, activities through this Project will operate on the following cycles:
Winter (8 weeks) – Second week of January through first week of March
Spring (8 weeks) – Fourth week of March through second week of May
Early Summer (8 weeks) – Last week of May through third week of July
Raise A Reader's mission is to engage caregivers in a routine of book sharing with their children from birth through age five which support the intention to foster healthy brain development, healthy relationships, a love of reading, and the literacy skills important for school readiness and success.  In addition, the Project will provide a support group program targeting expectant and/or new parents, along with a toy lending library program which will be integrated into other library family services offered at the libraries.  Other library services include the Family Place Space, Parent and Family Collection, and the 1,000 Books Before Kindergarten program. 

Based on research, children raised in homes that encourage family literacy grow up to be better readers and do better in school than children raised in homes where literacy in not encouraged.  This research suggests that promoting family literacy is important to future reading and school success, but this does not necessarily mean that parents should be prepared to read 100 books a week to their preschoolers.  While family literacy activities are traditionally based on reading activities, there are many other effective methods parents and caregivers can use as learning opportunities that promote literacy at home, such as using picture books, singing songs aloud, reciting poetry, storytelling, arts and crafts, and numerous other activities. 
The Imperial County Free Library Raise A Reader Project has tons of activities and resources available for families with young children to support early literacy development and a love of reading.  If you are interested in any of the library's literacy programs please contact County Librarian, Crystal Duran at (442)265-7102 or via email at family literacy@co.imperial.ca.us .  Keep in mind that all activities and services are FREE!
For a listing of other Proposition 10 funded Projects featured by the Commission click here.