Family Biliteracy Nights
Calipatria Unified School District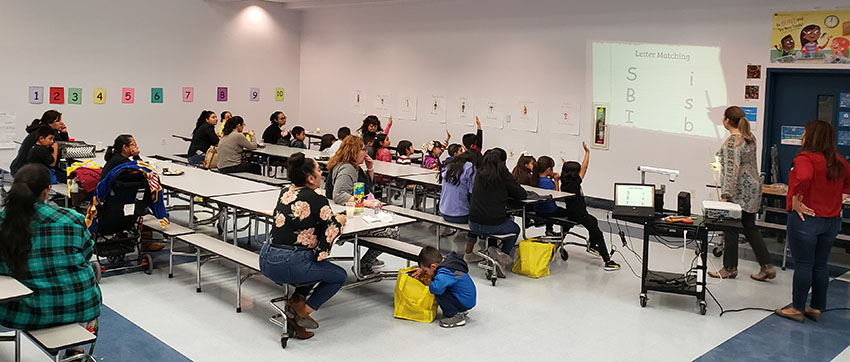 Family literacy is a process where parents and children work together to enhance education through the improtance of reading and writing in the home setting and the influence it can have on child's life as a family activity. A National Center for Education Statistics study found that children with a foundation that involved a "richer home literacy environment displayed higher levels of reading knowledge and skills than did counterparts with less rich home literacy environments." The photo above provides a glimpse into one of the several family literacy sessions hosted by the Calipatria Unified School District (CUSD). During this particular session, part of the CUSD Family Biliteracy Nights Project, captures migrant farmworker families engaged in a specialized activity designed to enhance the child's ability, through the support of a parent/adult interactions, to match capital and lowercase letters.  This event was realized at the school district's Bill E. Young Middle School cafeteria located in Calipatria, California on January 29, 2020.
The Family Bi-Literacy Nights Project is an afterschool family literacy program designed specifically to target children 0-5 years of age. The Project has a strong emphasis on working with migrant farmworker families. School district teachers, with the support of aids, work to enhance these services by offering coordinated parent education opportunities and resources for participants.  Extensive research on family literacy practices consistently demonstr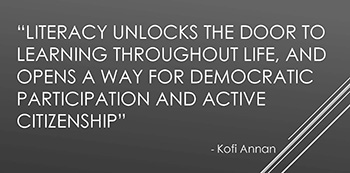 ates that young children significantly benefit from routine participation in well-run after school programs focusing on family literacy.  Studies of children who attend interactive family literacy programs for a substantial period of time demonstrate improvements in academic performance and social competence, including better grades, higher scores on acheivement tests, lower levels of grade retention, improved behavior in school, increased confidence and sense of self as a learner, better work habits, fewer absences, better emotional adjustment and relationships with parents, and a greater sense of belonging in the community. These types of gains yield the greatest benefits when families engage in early literacy practicies as soon as possible, particularly the case for children under 5 years of age. For instance, because the brain reaches 80% of full development by the child's 3rd birthday, learning experiences during the earliest stages of life support the organiztional and functional status of the child's brain.
The Family Bi-Literacy Nights Project's goal is for participants to show an increase in literacy.  The school district offers a 10-week series of sessions in the Fall of 2019 and Spring of 2020.  The schedule for these literacy sessions is set for Wednesdays from 4:00 pm to 6:00 pm.  Each session includes 5 books in both English and Spanish. A key component of this program is to provide an opportunity for parents and children to attend classes together.  Most of the parents in the program are of migrant and immigrant families that come from all parts of the United States, generally following seasonal crop cycles as their source of income.  Extra support is therefore given to the child's home language to foster dual-language early literacy skills, with parents as their child's "first" teacher, and home the "first" school.  First 5 Imperial is providing funding to the Family Bi-Literacy Nights Project to support the need for materials and supplies that will provide extra support for English learners mainly living in Calipatria and the surrounding cities of Imperial County.  For more information please contact Migrant Coordinator, Irasema Ferrel at (760) 348-2156.
For a listing of other Proposition 10 funded Projects featured by the Commission click here.