Funding Opportunity Now Open: First 5 Imperial (Commission) has allocated $50,000 for the purpose of funding mini-grants over the course of a one-year award process that will apply to the 2021-2022 fiscal year.  The Commission will consider awards for proposers su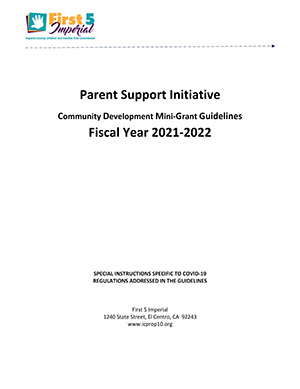 bmitting complete applications under the Community Development Mini-Grant Parent Support Initiative Application process. Applications will be considered for a one-time only funding opportunity that may offer direct services, capacity building or systems change efforts that address targeted intensive or general parent education. All interested proposers must meet the requirements, provide all of the information requested and complete narrative and budget information to submit the Community Development Mini-Grant Parent Support Initiative FY 2021-2022 Application by the stated deadline. For all contracts, continued funding will depend on compliance with all requirements contained in the contract and funding levels accrued from Prop 10 revenues.
The maximum amount of funding an agency may request for a Mini-Grant Project during the cycle is $25,000, of which the start date will be identified as the day the Agreement for Services (Contract) is ratified/signed by First 5 Imperial and the grantee up through June 30, 2022.  The objective of these mini-grants will be to enhance the capacity of organizations to better serve expectant parents, and/or parents with children 0-5 years of age and their families with services that support parent education, whether general services or targeted services that are intensive.
Deadline submittal dates for this Mini-Grant have been established as follows:

Please review the Community Development Mini-Grant Parent Support Initiative Application, Forms and Timetable FY 2021-2022 for detailed information. Just click on the following links:
Community Development Mini-Grant: Parent Support Initiative Application FY 2021-2022
Timetable - Community Development Mini-Grant: Parent Support Initiative
Parent Support Initiative Forms/Exhibits
A listing of agencies awarded through the Commission's Round 1 of Community Development Mini-Grant Application process for FY 2020-2021 is available under the following link:
Mini-Grants Awarded during Fiscal Year 2020-2021