Featured Program Vignette
First 5: Healthy Children Healthy Lives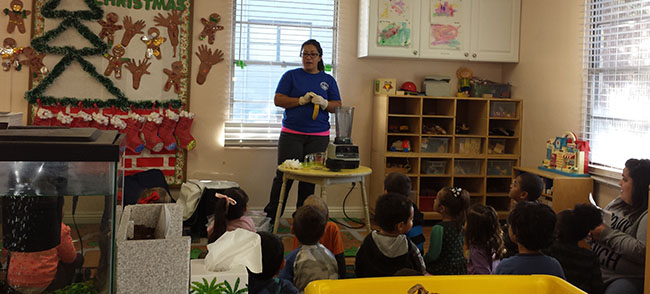 On December 14, 2014, a total of 18 children enrolled at the Discovery Land Preschool participated in a cooking class titled, "Groovy Greens Smoothie with Swiss Chard" that was hosted by the Fist Five: Healthy Children, Healthy Lives Project  - a nutrition and fitness program from the Imperial County Public Health Department that works with children 3 to 5 years of age.
The First Five: Healthy Children, Healthy Lives Project works to offer services designed to raise awareness about healthy eating and promote healthy lifestyles, and intends to address issues related to childhood overweight and obesity by working with preschool teachers, parents and children 0-5 years of age. 
A significant number of young children in Imperial County are overweight – according to the Pediatric Nutrition Surveillance System as many as one in three children 2-5 years of age in the county are overweight or obese. Because of the prevalence of this condition it is not uncommon for an individual to walk into a preschool center in Imperial County and observe that a number of children appear to be overweight. Perhaps there is not a specific reason for such a high incidence of children that are overweight in the county, where factors may suggest that the problem could be linked to genetics, culture, bad eating habits, a combination of the aforementioned, as well as other factors. Though the reality is that regardless of the complexity of underlying factors associated with this condition, the issue must be addressed, as problems associated with unhealthy weight gain can lead to a number of medical and social complications, such as diabetes, Cardiod-vascular disease, etc. This is an issue that has many healthcare and human services professionals concerned, and is one of the strategic objectives that has been identified by the Imperial County Children & Families First Commission as a priority. Therefore through funding by the Commission the Imperial County Public Health Department's First Five: Healthy Children, Healthy Lives Project continues to work towards increasing services and activities designed to support the reduction in the prevalence of childhood obesity and overweight among children; fiscal year 2014-2015 will mark the sixth year of Commission funding to support nutrition and fitness through this Project; and has previously funded other Projects through the Imperial County Public Health Department that support children 0-5 years of age. 

The primary objectives of nutrition and fitness activities offered by this Project work to provide services that target children 0-5 years of age and their families, and these services are designed to reduce the number of children who are overweight by facilitating and promoting the mission of the county-wide Childhood Obesity Prevention Alliance or COPA; assessing fruit and vegetable preferences for children, and teacher parent perceptions through the enhanced "Little Hands Growing and Cooking Healthy Foods Program" at partner preschool centers; supporting families through provider and childcare centers for education on obesity prevention and nutrition through English/Spanish group sessions; offering capacity building opportunities on nutrition and fitness for early care and education providers working with children 0-5 years of age; and collaborating with other organizations and coordinating obesity prevention efforts.
Staff from the The Imperial County Public Health Department's First Five: Healthy Children, Healthy Lives Project works diligently to improve and/or maintain the health of children and their families by strategies identified through research that work to support efforts to address and counteract the effects of childhood overweight and obesity, in addition to related complications through prevention and general nutrition regardless of the child's weight.  Currently, the Project is working with 15 preschool centers located within the county through their cooking and gardening activities and new members are being added to COPA each quarter.  For more information please contact Project Supervisor, Daniel Torres at (760) 482-4908 and feel free to visit the COPA website at: www.iccopa.org.
For a listing of other Proposition 10 funded Projects featured by the Commission click here.