Featured Program Vignette: Imperial County Free Library's Family Place Libraries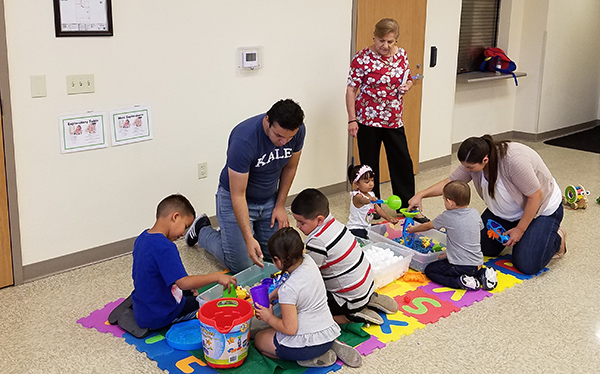 The Imperial County Free Library – County Librarian, Crystal Duran, along with the Heber Library Assistant and a grandmother are shown here engaging with children whose parents have committed to the 5-week program through the Family Place Libraries Project.  This kick-off event was realized on May 25, 2017 at the Imperial County Free Library located in Heber, where a total of 9 parents/caregivers and 15 children ages 0-5 were present.
The Imperial County Free Library's Family Place Libraries (FPL) Project was awarded funding through the Imperial County Children & Families First Commission (First 5 Imperial) to gain Family Place Library designation for two local library branches located in Calipatria and Heber.  This involves redesigning the libraries or a dedicated space in the library, to be welcoming and appropriate for children beginning at birth through the age of 5 and their respective parents; connecting parents with resources, programs, and services offered at the library and other family support service agencies; and reaching out to non-traditional library users. 
Parents or caregivers interested in providing a child with opportunities rich in social & verbal interaction, activities that support early brain development,learning & eventual school success, and having access to developmentally appropriate materials and activities, in addition to resources to become lifelong learners, can obtain more information through the Family Place Libraries Project at the Imperial County Free Library for the branches in the Cities of Heber and Calipatria. Current research on early brain development reveals that the milestones that a child experiences during the age of zero to three are some of the most significant periods for the intellectual, emotional and social advancement of the individual, and are important factors driving the importance for increased awareness of early literacy, learning and the healthy development of all infants and young children.  Furthermore, researchers have concluded that the ways in which adults interact with children profoundly influence these developmental milestones, particularly for  children between birth and five years of age; effective adult-child interaction directly impacting gains in a child's intellectual, social and emotional growth in a positive manner.  Studies support the notion that learning is an interactive process and depends on the linked development of multiple abilities and skills.
The Family Place Libraries Project is an evidence-based program, supported by the most current research on early brain development and family strengthening.  The program uses the trusted library-based setting to apply results that support the importance of parent-child interaction, play and supportive environments for healthy development and reading readiness.  As a result, state and regional evaluations to date have all demonstrated the value of this model in changing librarians' knowledge and skills, and in shifting the culture of the library to acknowledge young children and their parents/caregivers as key stakeholders and patrons.
Additionally, the Family Place Libraries work to provide participating families that have children 0-5 years of age with the following key components of the Family Place model:         
Developmentally Appropriate Collections and Interactive Spaces.
Parent/Child Workshops with local specialists in healthy child development and early literacy.
Partnerships and Coalition-Building with Community Agencies that serve young children and families.
Outreach to New and Non-traditional families, especially parents/caregivers with very young children (beginning at birth).
Developmentally appropriate programming for very young children and their parents/caregivers.
Library staff trained in family support, child development, parent education, outreach, communications, and best practices.
The Imperial County Free Library – Family Place Libraries work with staff of local sites (Calipatria and Heber libraries) in order to prepare and support them in implementing these core components.  Project staff were certified through an intensive staff 3-day training in New York, in addition to participating in follow-up webinars, and will continue to benefit from site visits by Family Place Library Project staff.
The County Librarian is available for any questions regarding the Family Place Libraries Project's services.  The Imperial County Free Library also offers additional services such as: recreational and informational reading, audiotapes, some videos and DVD's, periodicals, and reference services to its patrons.  Materials can be requested via interlibrary loan and Internet and public-access computers are available at most branches.  Currently there are four library sites open to the public in Calipatria, Heber, Holtville, and Salton City.  For more information please contact County Librarian, Crystal Duran at (442) 265-7102
For a listing of other Proposition 10 funded Projects featured by the Commission click here.