Featured Program Vignette: Let's Stay Safe From Fires and Burns Puppet Shows Project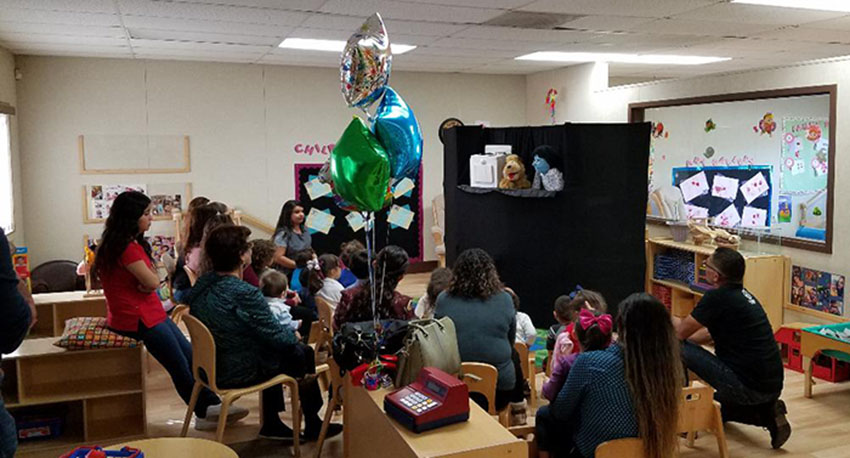 The picture above shows families engaged in a puppet show presentation from the Burn Institute's Let's Stay Safe from Fires and Burns Puppet Shows Project.  Participating parents and children are intently listening to characters in a presentation that focuses on the dangers of playing in the kitchen, particularly burns from scalds or fires.  This particular event was staged at the Imperial County Office of Education's Early Head Start Preschool Center – Calexico site on January 17, 2018.
A home fire is a devastating event, and one that an individual, particularly a child,  never counts on happening.  Young children are most at risk when this type of tragedy occurs.  In fact, children under five are twice as likely as other people to die in a home fire.  Unfortunately, many home fires are started by children playing with dangerous household items – especially lighters and matches.  Taking reasonable precautions in the home and teaching children how to escape from a fire can help any family avoid a disaster.  The Burn Institute is a nonprofit organization dedicated to reducing fire and burn-related injuries and deaths in San Diego and the Imperial County.  The Burn Institute has reaches thousands of community members and burn survivors each year, and intends to target over 1,000 children 0-5 years of age and/or their families in Imperial County.  The Burn Institute has successfully provided fire safety presentations to children ages 0-5 for decades, the Let's Stay Safe from Fires and Burns Puppet Shows has been a main component of the Project's prevention efforts. 

The Let's Stay Safe from Fires and Burns Puppet Shows Program presentations are offered throughout Imperial County, and-typically take place in classroom settings from various childcare centers, preschool centers, and other sites that serve young children.  The Burn Institute has also taken into consideration the following population-based characteristics to target services: predominately Spanish speaking households, a high Hispanic population, low literacy levels, and high rates of poverty.  The Project's primary objective is to target children 0-5 years of age through education about the dangers of fires and burns, discouraging fire play, and preparing children in the event that they are a victim of a scald,  are caught in a fire or similar situation.  Services intend to help preserve their physical well-being from the hazards of fires and burns, and promote the expectation is that children will be emboldened to talk to their families about the information they have learned.  A secondary objective of the Project is to work to offer parents and caregivers access to fire and burn prevention information. By providing the child with take-home information regarding fire and burn prevention, and inviting parents and/or caregivers to participate in presentations, the Burn Institute increases the opportunity to support the health and well being of children.

Currently, the Burn Institute is offering fire and burn prevention puppet show presentations throughout Imperial County through a grant funded by the First Five Imperial.  The Project offers many other programs and materials available at no charge to schools, businesses, service clubs, senior citizen groups, childcare classes and parent groups.  In addition, the Project publishes a monthly e-newsletter which offers educational fire and burn prevention information and the latest on special events and Burn Institute programs.  For more information feel free to contact the Burn Institute's Community Outreach Specialist, Paola Rangel at (760) 355-3175 or visit their website at http://burninstitute.org/fire-and-burn-prevention.
For a listing of other Proposition 10 funded Projects featured by the Commission click here.